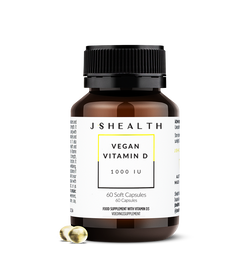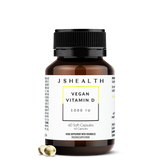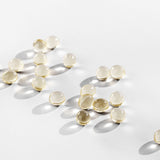 Vegan Vitamin D Formula - 2 Months Supply
This premium vegan 1,000 IU Vitamin D formula is designed to support bone health, the... More
This premium vegan 1,000 IU Vitamin D formula is designed to support bone health, the immune system and overall wellbeing with one tiny daily capsule.
Exclusive member savings
Cancel or edit at anytime
Regular rewards + gifts!
Access to the JSHealth App
Early access to sales!
Nutritionist formulated in Australia
1,000 IU Vitamin D3 per tiny soft gel capsule
Vegan plant-based source of Vitamin D
Supports bone health
Maintains the immune system
Promotes overall wellbeing
Vegan Vitamin D Formula - 60 Capsules. Australian Made.
The sunshine vitamin! Care for your wellbeing with our nutritionist formulated Vitamin D, designed to conveniently support you with just one tiny capsule a day.
VEGAN VITAMIN D: This formula contains 1,000 IU vegan Vitamin D3 per soft gel capsule, which maintains and supports bone health. Vitamin D3 also maintains and supports muscle health, immune system health and healthy teeth. Additionally, it supports general health and wellbeing.
Take a look at the verified customer results below.
Carefully formulated to care for you.
The JSHealth Vegan Vitamin D formula contains Cholecalciferol (Vitamin D3) 25 micrograms (1,000 IU).
Active ingredients per soft capsule:
Cholecalciferol (Vitamin D3) 25 micrograms (1,000 IU)
Ingredients: Rice bran oil, Capsule shell (Modified starch, Glycerol, Purified water, Vanillin, Sorbitol), Vitamin D3 (Fractionated coconut oil, Antioxidant [D-alpha tocopherol], Cholecalciferol).
Vegan formula. Does not contain crustacea, egg, fish, milk, peanut, sesame, tree nut animal products or artificial colours.
♻︎ All JSHealth Vitamins are recyclable in your normal household recycling. We use HDPE and PET recyclable plastic to reduce packaging waste. Please recycle your bottles.
Adults, take 1 capsule daily.
Do not exceed the recommended daily amount.

Food supplements should not be used as a substitute for a varied and balanced diet and a healthy lifestyle.

If you are pregnant, breastfeeding or under medical supervision, as always, follow the advice of your healthcare professional when taking food supplements.

Store in a cool, dry place away from moisture and direct sunlight.

Keep out of reach of children.

Do not use if the cap seal is broken or missing.
This is an international product. Slight variations to label text may occasionally occur.
Vegan Vitamin D contains contains vegan cholecalciferol (Vitamin D3) at 25 micrograms (1,000 IU) per capsule and is designed to be conveniently taken once a day. This comes from a plant source of Vitamin D3 (cholecalciferol) sourced from the UK, which is approved by the UK Vegan Society and UK Vegetarian Society to meet vegan standards.
Where is it sourced from?
Our vegan form of Vitamin D is sourced from Lichen, which is a small and unique plant species consisting of a symbiotic association of a fungus with an algae. It is naturally found on mountainsides, rocks and trees in abundance. Lichen is a natural source of Vitamin D3 with no negative effects on the environment.
Contains 1,000 IU Vitamin D3
Easy, convenient tiny soft gel capsules
Plant-based source
Nutritionist formulated in Australia
QUALITY + CARE:
Our team of health experts source the ingredients in our products with great care. We ensure quality actives are placed in each of our targeted formulas to achieve its indications.
We believe in nourishing your health, confidence and wellbeing with a holistic approach.
The research behind our ingredients:
VITAMIN D3
Contributes to the normal function of the immune system

Contributes to the maintenance of normal bones

Contributes to the maintenance of normal teeth

Contributes to the maintenance of normal muscle function
Shipping within the United Kingdom - via Royal Mail:
Standard Delivery
Standard Shipping: 3-5 Business Days (£2.99)
FREE Standard Shipping for orders over £35
FREE Standard Shipping on all Subscription orders
Express Delivery
Express Shipping: 1-2 Business Days (£5.99)
FREE Express Shipping for orders over £65
KEY INGREDIENTS
JSHealth believes in truly nurturing the body and nourishing it with the right nutrients, minerals and herbs to reach its full potential.
Vitamin D3
Supports bone health and immune system health.
Supports bone health and immune system health.
Vegan Source
Contains 1,000 IU vegan Vitamin D3 per soft gel capsule.
Contains 1,000 IU vegan Vitamin D3 per soft gel capsule.
Customer Reviews
Individual results may vary.
THE PEOPLE HAVE SPOKEN