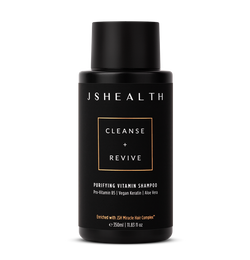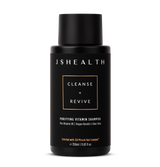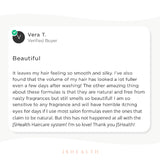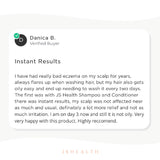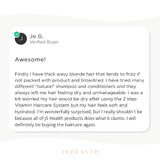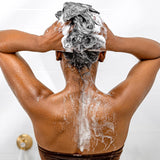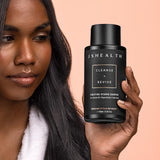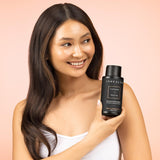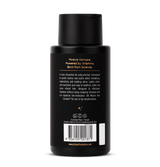 Purifying Vitamin Shampoo - Cleanse + Revive
A clean innovation for scalp and hair, formulated to gently foam, cleanse and purify, whilst... More
A clean innovation for scalp and hair, formulated to gently foam, cleanse and purify, whilst revitalising, replenishing + building shine.
Exclusive member savings
Cancel or edit at anytime
Regular rewards + gifts!
Access to the JSHealth App
Early access to sales!
2
Designed to nourish the scalp whilst cleansing hair.
Effectively foams and revitalises, replenishes and builds shine.
Elevated with bio-restorative JSH Miracle Hair Complex™ for root to tip transformation
Formulated to be suitable for colour and keratin treated hair
Clean + Kind - No Sulfates (SLS, SLES), silicones or parabens. Vegan formula.
JSHealth Vitamins Hair - Purifying Vitamin Shampoo
350ml | 11.83 fl oz
Vegan. Clean Formula. Aus Made. All Hair Types.
Cleanse + Revive
Key Actives: Pro-Vitamin B5 | Vegan Keratin | Aloe Vera
Enriched with JSH Miracle Hair Complex™
A clean innovation for scalp and hair, formulated to gently cleanse and purify, whilst revitalising, replenishing and building shine. Lightly lather and moisturise your way to healthier, softer, more vibrant hair. Designed to effectively foam and shampoo without stripping. Elevated with our signature bio-restorative JSH Miracle Hair Complex™ for root to tip transformation.
JSHealth Vitamins Hair Range is designed to:
Support scalp + hair health

Shield the hair from heat damage

Soften + detangle

Enhance shine

Support coloured hair + minimise colour fading

Nourish + hydrate

Build strength

Assist hair growth + health (due to scalp support)

Repairs Strands

Be anti-static

Help balance natural hair oils
A note from our shampoo:
"I may feel slightly different from your conventional shampoos, which is because I am natural! I don't contain chemical softeners and am free from nasties - instead I use vitamins and botanical actives to gently foam and cleanse. I'm best focused on being massaged into the scalp and then lightly used through the lengths. I'm bursting with ingredients that support optimal scalp health and that means healthy, beautiful hair. Always follow me with conditioner! The Nourishing Vitamin Conditioner balances me out perfectly."
Miracle Haircare, Powered by Vitamins, Born from Science
Complete Ingredient List:
Aloe Barbadensis Leaf Juice*, Aqua (Water), Sodium Cocoyl Methyl Isethionate, Cocamidopropyl Betaine, Sodium Methyl Cocoyl Taurate, Panthenol (Pro-Vitamin B5), Fragrance (Bergamot Oil, Sweet Orange Peel Oil, Cedarwood Bark Oil, Ylang Oil, Vanilla Extract*), Coco-Glucoside, Sodium Gluconate, Glyceryl Oleate, Hydrolysed Vegetable Protein (Vegan Keratin), Glycerin, Citric Acid, Sodium Ascorbyl Phosphate (Vitamin C), Calendula Officinalis Flower Extract, Boswellia Carterii (Frankincense) Oil*, Tocopheryl Acetate (Vitamin E), Persea Gratissima (Avocado) Oil, Glycine Soja (Soybean) Oil, Hydroxyacetophenone, Caprylhydroxamic Acid, Benzyl Benzoate, Limonene+, Linalool+, Citral+
*Certified Organic, +From Essential Oils, JSH Miracle Complex™
Vegan Keratin
This superstar ingredient harnesses the advanced smoothing and protective benefits of a special blend of hydrolysed vegetable protein and peptides. This achieves an efficacious plant-based substance with a composition close to human keratin to provide advanced protection for the hair shaft, rejuvenation of the hair surface, and increased strength to minimise and prevent breakage. In a research study, our special form of Vegan Keratin was shown to reduce hair breakage by approximately 30% when compared to placebo.
Pro-Vitamin B5
Our proprietary form of Pro-Vitamin B5 (known as DL-Panthenol) is a truly multifunctional vitamin for supporting skin (scalp) and hair health. When applied topically to the skin and scalp, it provides a surge of deep moisture, along with soothing actions that work to provide repair and comfort. Pro-Vitamin B5 has been proven to improve all symptoms of irritated skin by around 80%*, making it an incredible haircare active for assisting with easing scalp conditions and achieving optimal scalp health. This talented ingredient also functions as a hair conditioning agent, providing locks with long-lasting moisture and imparting shine.
*Results from research study on 40 healthy female volunteers. Reference: F.B. Camargo, L.R. Gaspar, P.M.B.G. Maia Campos. J. Cosmet. Sci., 2011, 62, 361–369 2. Bielfeldt S, et al. Dermatosen. 1998; 46:159–65.
Aloe Vera
Soothing and moisturising Aloe Vera extract delivers an array of elements to care for scalp and hair, including amino acids and natural enzymes, and imbibing anti-inflammatory actions, making it wonderful for naturally balancing hair oils whilst calming the scalp. The moisturising effect of this botanical active appears to be due to the mix of water and polysaccharide components, creating a jelly-like consistency that holds water and minimises its evaporation. This provides a sustained moisture-rich environment when applied and humectant properties to promote the retention of water.
JSH Miracle Hair Complex™
This formula is elevated with the signature JSH Miracle Hair Complex™, containing 7 science-backed vitamins, nutrients and botanicals for a healthy scalp and silky, smooth, vital hair. Our bespoke blend infuses a carefully curated combination of Vegan Keratin, Pro-Vitamin B5, Vitamin C, Calendula, Avocado Oil, Vitamin E and Frankincense.
Vegan Keratin - Provides advance protection for hair, rejuvenates hair surface + increases strength to minimise breakage.

Pro-Vitamin B5 - Deeply moisturises and soothes the scalp for repair + comfort, plus conditions hair for long-lasting moisture + shine.

Vitamin C - Water soluble antioxidant to protect scalp + hair from free radical damage.

Calendula - A soothing extract rich in lutein to support the scalp for optimal health.

Avocado Oil - Nourishes and repairs the scalp + smoothes the hair cuticle while imparting glossy shine.

Vitamin E - Oil soluble antioxidant to protect scalp + hair from free radical damage.
Frankincense - Brings anti-inflammatory properties + an uplifting aroma.
OUR PROMISE
Transparency + honesty

Clean + pure formulas

Natural fragrances

Vegan-friendly

Cruelty free - not tested on animals
100% FREE FROM:
Parabens

Sulfates (SLS, SLES, ALS, ALES)

Phthalates

Mineral oil

Petrolatum

PEGs

Silicones

Synthetic colours

Synthetic fragrances

Animal-derived ingredients
♻︎ Our JSHealth Vitamins Hair range is housed in 50% recycled plastic containers. Please recycle your bottles in your household recycling.
Shipping within the United Kingdom - via Royal Mail:
Standard Delivery
Standard Shipping: 3-5 Business Days (£2.99)
FREE Standard Shipping for orders over £35
FREE Standard Shipping on all Subscription orders
Express Delivery
Express Shipping: 1-2 Business Days (£5.99)
FREE Express Shipping for orders over £65
Customer Reviews
Individual results may vary.