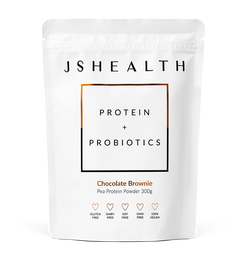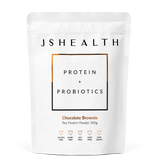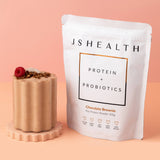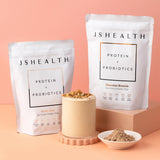 Protein + Probiotics 300g - Chocolate Brownie
A delicious, easy-to-digest vegan pea protein enriched with the benefits of probiotics.
A delicious, easy-to-digest vegan pea protein enriched with the benefits of probiotics.
Exclusive member savings
Early access to sales
Pause, edit or cancel anytime
Access to the JSHealth App
Regular rewards + gifts!
Nutritionist formulated

100% vegan plant protein

Includes live cultures

Available in 2 delicious flavours

Naturally sweetened

Free from gluten, dairy and soy

Enjoy in shakes, smoothies + baked goods
Protein + Probiotics - 300g Pouch. Australian Made.
NEW IMPROVED FORMULA! We listened to you and are excited to share our reformulated Protein + Probiotics. With a balanced flavour profile that's not too sweet, full of the nourishing protein and probiotics that you love.
Available in 2 decadent flavours:
Vanilla Bean
Chocolate Brownie
PROTEIN + PROBIOTICS: Our nourishing, high-quality Protein + Probiotics range combines plant-based protein with the benefits of probiotics. These easily digested protein powders can be enjoyed in your morning smoothie, as a post-workout shake, and to add a boost of protein to bliss balls or cooked goodies. They come in a variety of delicious flavours, all free from nasties, added sugars and preservatives.
Take a look at the verified customer results below.
Carefully formulated to care for you.
Chocolate Brownie: Pea Protein Isolate, Cocoa Powder, Natural Chocolate Flavour, Himalayan Pink Salt, Natural Sweetener (Thaumatin*), Probiotics (Lactobacillus Rhamnosus GG).

Vegan formula. Does not contain gluten, wheat, added sugar, dairy, soy, animal products, artificial colours, artificial flavours or artificial sweeteners.
♻︎ All JSHealth Vitamins are recyclable in your normal household recycling. We use HDPE and PET recyclable plastic to reduce packaging waste. Please recycle your bottles.
Enjoy one or more servings of Protein + Probiotics per day, depending on your diet and activity level. Simply add 2 tablespoons (30g) to a shaker containing 300ml or more of water or your choice of milk and shake.
Alternatively, blitz the protein with your choice of milk, ice, fruit and healthy fats to make a delicious smoothie.
Store in a cool dry place away from direct heat and sunlight.

Do not use if the cap seal is broken or missing.
This is an international product. Slight variations to label text may occasionally occur.
Our gut-loving Protein + Probiotics formula is a delicious blend of quality ingredients designed to be easily digested.
100% vegan

A source of probiotics

Free from gluten, dairy and soy

Free from GMO ingredients

Free from fillers, chemicals and preservatives

Free from artificial sweeteners

Environmentally friendly

Made from a sustainable crop

No added sugars, naturally sweetened with Thaumatin

Product of Australia + Nutritionist formulated
QUALITY + CARE:
Our team of health experts source the ingredients in our products with great care. We ensure quality actives are placed in each of our targeted formulas to achieve its indications.
We believe in nourishing your health, confidence and wellbeing with a holistic approach.
The research behind our ingredients:
PEA PROTEIN ISOLATE:
Supports muscle growth

Provides a source of complete protein (contains all essential amino acids)
LACTOBACILLUS RHAMNOSUS GG:
Shipping within the United Kingdom - via Royal Mail:
Standard Delivery
Standard Shipping: 3-5 Business Days (£2.99)
FREE Standard Shipping for orders over £35
FREE Standard Shipping on all Subscription orders
Express Delivery
Express Shipping: 1-2 Business Days (£5.99)
FREE Express Shipping for orders over £65
Customer Reviews
Individual results may vary.