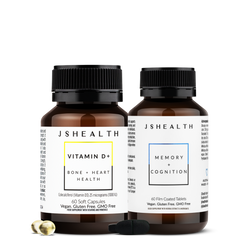 Mental Clarity Dynamic Duo
Exclusive member savings
Cancel or edit at anytime
Regular rewards + gifts!
Access to the JSHealth App
Early access to sales!
Balancing Vitamin Cleanser
Pro-Collagen Vitamin Serum
Luminous Vitamin Oil
Probiotic Vitamin Moisturiser
Vitality X + Collagen
Refer to the individual product pages for full ingredients, indications and warnings.
♻︎ All JSHealth Vitamins are recyclable in your normal household recycling. We use HDPE & PET recyclable plastic to reduce packaging waste. Please recycle your bottles.
Vitality X + Collagen: Shake container before use. Adults, mix 1 level scoop (6g) of powder with water, a smoothie, or your favourite drink and stir well. Do not exceed a maximum of 12g (2 level scoops) per day.
Do not exceed the recommended daily amount.
Food supplements should not be used as a substitute for a varied and balanced diet and a healthy lifestyle.
If you are pregnant, breastfeeding, under medical supervision or taking any medications, consult a doctor before use.
Please note that due to the Vitamin C in this product, it is recommended for use in cold drinks only. Also, due to the flavour profile, this does not pair well with coffee.
Store in a cool, dry place away from moisture and direct sunlight.
Keep out of reach of children.
Do not use if cap seal is broken or missing.
We advise anyone with a fish/shellfish allergy not to use this product.
Refer to the individual product pages for what makes each of these formulas unique!
QUALITY + CARE:
Our team of health experts source the ingredients in our products with great care. We ensure quality and specific doses of actives are placed in each of our targeted formulas to achieve its indications. We believe in nourishing your health, confidence and wellbeing with a holistic approach.
Refer to the individual product pages for indications behind our ingredients:
Shipping within the United Kingdom - via Royal Mail:
Standard Delivery
Standard Shipping: 3-5 Business Days (£2.99)
FREE Standard Shipping for orders over £35
FREE Standard Shipping on all Subscription orders
Express Delivery
Express Shipping: 1-2 Business Days (£5.99)
FREE Express Shipping for orders over £65
Customer Reviews
Individual results may vary.